Getting The Emily Atack Show back on stage
06.10.2021
Shooting for the second run of ITV2's sketch series from Monkey Kingdom ended as we's hoped – in a room full of laughing comedy fans, says Avril Spary.
The first series of The Emily Atack Show was, as Emily affectionately calls it, 'The Show with Nine Lives' – somehow managing to keep afloat through the most testing times anyone can remember.
The pilot was shot and delivered literally seconds before Covid closed the world down. It was green-lit in peak lockdown, with a virtual writers room taking place on this new thing called Zoom. Forty-two sketches and impressions were planned and shot amid a maelstrom of stringent safety rules and social distancing, ending in an overwhelmingly under-full Clapham Grand where Emily performed stand-up to a sparse audience wearing face masks.
And yet, the resulting series was a breath of fresh air. Emily's soul-bearing tales and revelations were a welcome reminder of a pre-pandemic world, showcasing her likeability, relatability, and acting prowess. So, when I was invited by Monkey to take on the mantel of series producer for the second run, it wasn't hard to persuade me.
The new series sought to build on the first, so we set about delivering even more sketches. Fifty-four this time intercut within six stand-up shows, in just under four months.
Production on the show is a story of three parts. An intensive five-week writing period, followed by two months of shooting sketches and ending with three days in front of a live audience filming the stand-up spine of the shows.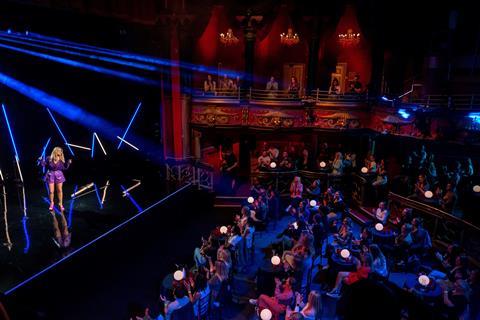 While the middle section is all bit of a crazy blur, one thing that does stand out is that the process began, and ended, with a bunch of people in a room together, belly laughing – something that none of us had experienced for a very long time.
With sufficient space and sanitiser, we were delighted to safely host an in-person writers room. Instantly, the brilliant energy, warmth and creativity that would define the series could be felt. From critically acclaimed writer-performers like Janine Harouni, Sally O'Leary and Amy Gledhill, to relative newcomers who'd caught our attention online, female voices were key to the show.
We turned up the dial this series by putting together a team of truly excellent women (and a few good men). Ten of our fourteen writers were women, which shouldn't feel in any way revolutionary in 2021 and yet it does.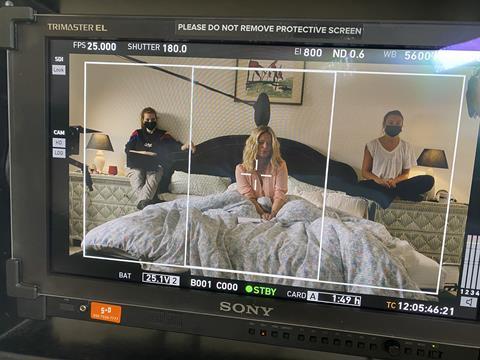 As the brilliant Celeste Dring put it: "Initially I was a little concerned to see so many women in the room. What if our tiny hands couldn't apply the requisite pressure to the keys? It's worked out well though, maybe ITV are onto something here."
They worked tirelessly together, collaboratively rather than competitively, bashing out ideas, which if approved were developed into full scripts for Emily to workshop and for the production team to bring to life.
During the writing stage the biggest challenges were to balance each episode with the right mix of sketches and impressions, as we wanted to make the sketches cinematic in style, silly in tone and yet always feature relatable observations at their heart.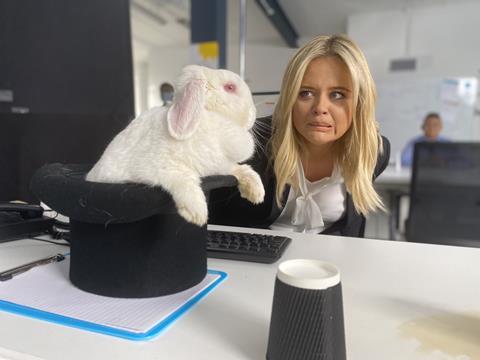 We also did not want to blinker our creativity by Covid or budget. Cue lots of, "We'll think about how the hell we can afford an animatronic bear later…"
As we moved into a summer of sketch filming, "communication" usurped "creativity" as the show's buzzword: 54 different set-ups required endless locations, costume, make-up and art department meetings.
Symbiotic team prep, combined with video meeting after video meeting, meant nobody would be surprised last minute if we might need Emily to make an actual rabbit appear from a hat for one of our sketches, or for one of her breasts to inexplicably inflate in another.
With a small team overseeing such a large number of sketches it would have been easy to let the quality slip, but we challenged and pushed each other daily. With outstanding art, makeup and production teams busting a gut to make our insane objectives become a reality. (Yup, they got us the animatronic bear, the magic rabbit and the inflating boob.)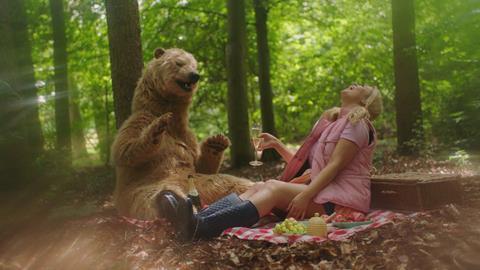 From a Greek police station to a silent retreat; a sci-fi laboratory to a boxing ring; from one day to the next we were creating a new sketch in an entirely new environment. As if we didn't need any more of a challenge, the sketches were edited simultaneously alongside the shoots – WhatsApp video became instrumental in approving notes and cuts.
Just as we were wrapped on the final sketch shoot, we were slingshot into the three double stand-up records. In the mornings we'd rehearse and by the evening The Clapham Grand would be filled with Emily fans. We ended how we began: in a room full of people (and gladly lots of women) laughing out loud.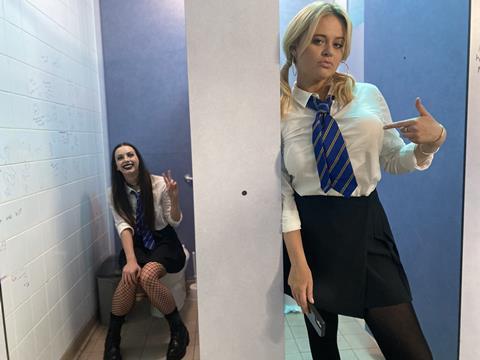 There is a sketch in this series that ends with Emily bursting at the seams in a 'teen-horror' pastiche inspired way. This particular sketch also focused on various Mean Girls inspirations – Emily and her two friends writing childish insults about other students on the toilet walls.
The shoot day ended with me, the series producer (who was recovering from food poisoning) and the art department all on our hands and knees mopping up fake blood from the floor, roof and walls of a toilet in Dagenham. It was an unusual day but illustrates just how hard every member of our team worked to make each sketch the best it could be.
The toilet was by far the hardest location to source. Our producer had scoured every loo in London to find the perfect one. I wanted it to look like 1996 teen horror film The Craft so Olly Wiggins at S+O gave us use of Atlas anamorphic lenses which DoP Ben Bee used to great effect in a dingily lit space.
To be cost efficient, we filmed sketches in blocks. Tight schedules meant often I'd only see art department's solutions to the complex problems we threw at them on the morning of the shoot.
On this particular day they not only had to deal with Emily exploding, but also parts of her anatomy suddenly swelling – while hair and makeup had to attach pig snouts, moustaches and terrible acne at speed… All of which they achieved perfectly.
I feel lucky to have worked with Emily enough to know that she trusts me. Having worked hard to try and convince everyone to make this specific sketch (I am a huge horror fan), I knew I could rely on that trust even though what we were asking her to do was mad.
Emily is so funny, an excellent actress who's never afraid to give some of the funniest roles to her brilliant supporting cast, sharing out the laughs. On this day we had Abi Clarke, Ambreen Razia and Holli Dempsey all believing in and throwing themselves into our incredibly silly sketch.
There was a lot to shoot, especially considering all the makeup and practical effects but, along with a lot of preparation and communication, the team worked together flawlessly with each department knowing exactly what they had to do and being ready to do it at the right time.
Yes, the day ended mopping up fake blood and yes, we might have permanently stained some walls. It was well worth it.
The Emily Atack Show, ITV2
Production company Monkey (NBCUniversal International Studios)
Commissioner Peter Tierney
Length 6 x 45 minutes
TX 10pm, Thursday 7 October
Executive producers Andy Charles Smith; David Granger
Director Tommy Forbes
Series producer Avril Spary
Writers Emily Atack; Ben Clark; Tasha Dhanraj; Celeste Dring; Steve Dunne; Hannah George; Amy Gledhill; Janine Harouni; Lucia Keskin; James Menzies; Mary O'Connell; Sally O'Leary; Freya Parker; Josh Pugh
Post-house Suite
Link: https://www.broadcastnow.co.uk/comedy/getting-the-emily-atack-show-back-on-stage/5164001.article